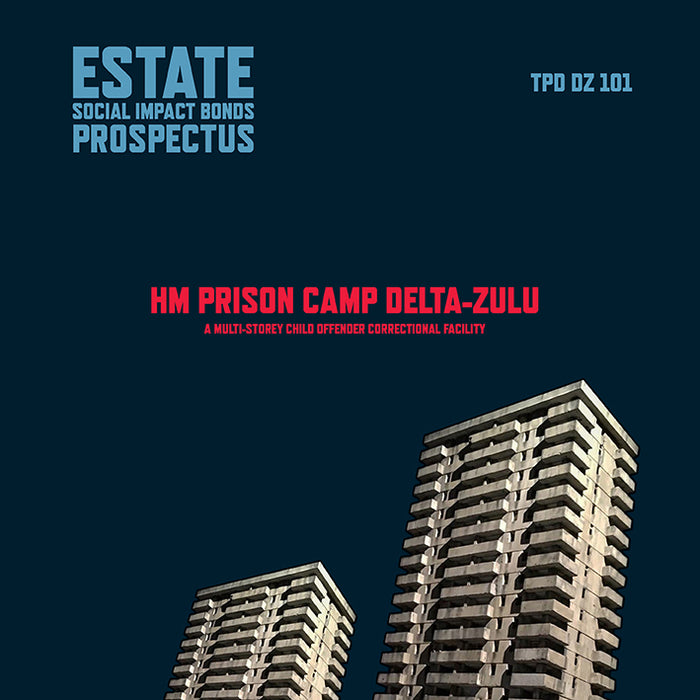 Jimmy Cauty
ESTATE MARKETING TB2 Social Impact Bonds Prospectus, Town Planner Edition
We offer a packaging and shipping service in addition to collection in Northumberland. Please contact us for a delivery quote or to arrange collection.
We will invoice for purchases and provide BACS details.
About the work
We have available 4 Town Planner Editions as described below, numbers 27/100, 28/100, 29/100, 30/100.
An ESTATE  Expression of Interest Marketing Brochure
Edition of 500 copies
In purchasing this brochure you will be expressing an interest in Social Impact Bonds for high yield companies providing services for Jimmy Cauty's new tower block: HM PRISON CAMP DELTA-ZULU, a multi-storey child offender correctional facility. All services are run by Integrated Offender Management Systems, a subsidiary of BAE Systems.
INSPIRED PUNISHMENT
INNOVATE SPECULATE INCARCERATE
Upon purchasing a prospectus you will be sent a password to access the L-13 UnReal ESTATE Capital Investments department where you will be able to buy Social Impact Bonds.
Those investing in bonds will automatically become a BLOCK D BENEFACTOR, allocated a unit in the sector they have chosen, listed as patron to that unit and sent FOLIO TWO: the ESTATE BENEFACTOR Social Impact Bond Investment pack.
Making an expression of interest by purchasing this brochure does not commit you to making an investment, nor does it guarantee an investment in HM PRISON CAMP DELTA-ZULU and associated innovative service companies.
This brochure available in TWO Edition options.
Estate Edition
Numbered edition of 400


Town Planner Edition
Signed and  numbered by the Town Planner
Edition of 100

12 page saddle stitched brochure in 250 gsm corporate matt silk with 350 gsm cover in corporate velvet silk
21 cm x  21cm