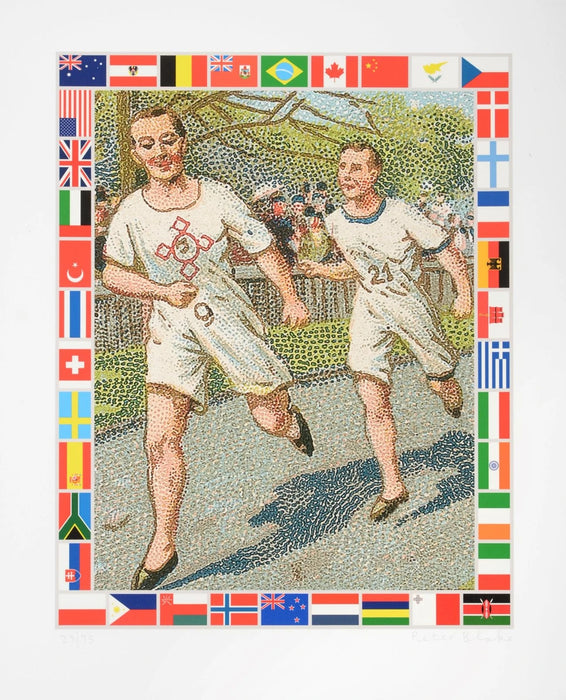 Peter Blake
Running Suite
We offer a packaging and shipping service in addition to collection in Northumberland. Please contact us for a delivery quote or to arrange collection.
We will invoice for purchases and provide BACS details.
About the work
Boxset of the complete 10 limited edition prints from The Running Suite, edition 2/25
Each image is available as a giclee print with silkscreen varnish, measuring 34.5cm x 42cm and from a signed edition of 75
Sir Peter Blake RA was commissioned to produce an exclusive series of prints 
Running Suite
to celebrate the 30th staging of the Bupa Great North Run.
Sir Peter's ten pictures explore the heritage of running, the event's human element, its international pedigree, its humour and extensive memorabilia. Using images of the iconic half-marathon, cigarette cards and vintage photographs of runners, medals and posters, many of the found images and objects Sir Peter has appropriated are from the Great North Run archives or sourced from the North East, but the finished prints have a distinctly international feel.
Sir Peter's mother was born in South Shields (where the Run ends) and moved to Kent in the 1930s. Running Suite is Blake's homage to the area.
This series of prints formed part of the In The Long Run exhibition at the Great North Museum from 17 July - 17 October 2010.