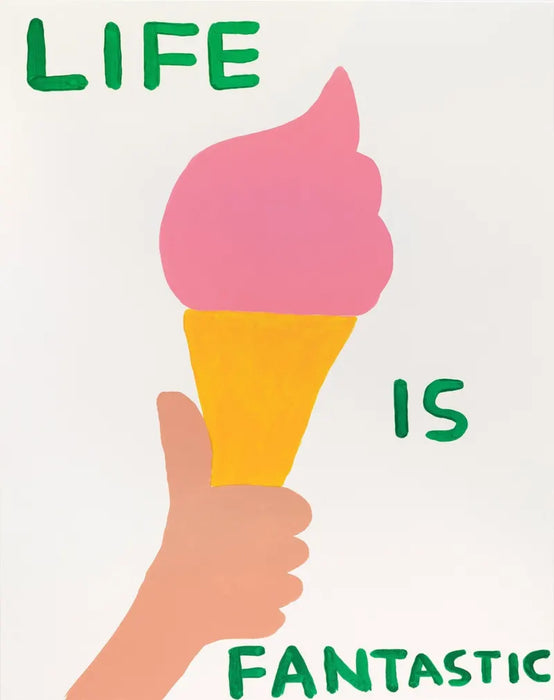 David Shrigley
Life is Fantastic 2016
We offer a packaging and shipping service in addition to collection in Northumberland. Please contact us for a delivery quote or to arrange collection.
We will invoice for purchases and provide BACS details.
About the work
Life Is Fantastic features one of David Shrigley's most familiar motifs: a cartoonishly cheerful thumbs-up, combined here with a ludicrously oversized, bubblegum-pink ice cream cone. The form of the ice cream riffs on the Olympic torch, which has represented the positive values associated with the Games since ancient Greek times. In classic Shrigley style, Life Is Fantastic is a light-heartedly satirical yet ultimately optimistic representation of the Olympic spirit. Anti-monumental and child-like, it recalls Shrigley's commission for Trafalgar Square's Fourth Plinth: a 10-metre high bronze thumbs-up titled Really Good (2016).
Edition of 125
Eight colour screen print on Somerset Tub Sized 410 gsm paper. Produced by K2 Screen, London.
76 x 60 cm (30 x 23.6 in)
Signed, numbered, and dated by the artist